LE GRAND GRIMOIRE (The Grand Grimoire)
This HTML edition by Joseph H. Peterson, Copyright © 1998. All rights reserved.

The copyright to the Twilit Grotto Esoteric Archives is owned by Joseph H. Peterson and is protected by the copyright laws of the United States and the Universal Copyright Convention.

The materials on the Twilit Grotto Esoteric Archives (including all texts, translations, images, descriptions, drawings etc.) are provided for the personal use of students, scholars, and the public. Any commercial use or publication of them without authorization is strictly prohibited. All materials are copyrighted and are not in the public domain. Copying of materials on the Twilit Grotto Esoteric Archives Web pages is not permitted.

Individuals distributing illegal copies will be pursued legally along with their Internet Service Providers.
This text constitutes one of the more famous and outrageous Grimoires of black magic. It probably dates not much earlier than the early 1800's. Eliphas Levi, the great 19th century French occultist, seems to have held some fascination for this work.
A. E. Waite pronounced this the most fantastic of the texts of the Black Magic cycle, and "one of the most atrocious of its class; it has a process in Necromancy which is possible, say some occult writers -- in the geniality of a lucid interval -- only to a dangerous maniac or an irreclaimable criminal. It must be admitted that the Rite is highly unreasonable, but in dealing with such literature it seems unsafe to advance the objection, for it applies much too widely."
English translation by A. E. Waite, Book of Black Magic and Pacts, London, 1898. Diagrams 13-15 do not occur in the primary edition used, and are supplied from an alternate edition.
WARNING: While I present the complete text of the French edition, Waite omits translating significant portions of the instructions, without which "every operation will turn to your disadvantage, confusion and total destruction." Comments and translations in [] by JHP.
NOTE: Complete text is included on our CD.

---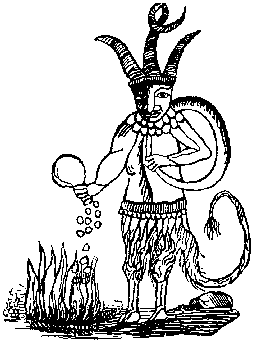 LE GRAND

GRIMOIRE,

OU L'ART DE COMMANDER
LES
ESPRITS CELESTES,
AÉRIENS, TERRESTRES, INFERNAUX

AVEC LE VRAI SECRET
De faire parler les Morts, de gagner
toutes les fois qu'on met aux Loteries,
de dácouvrir les Trésors cachés, etc.

Imprimiré sur un manuscrit de 1522.





PARIS.

B. RENAULT, ÉDITEUR.
1845.

The GRAND

GRIMOIRE,

or the art of controlling celestial, aerial, terrestrial, and infernal spirits.

With the TRUE SECRET of speaking with the dead, winning whenever playing the lottery, discovering hidden treasure, etc.

Printed from a manuscript of 1522.
---
PRÉLUDE.

CHAPITRE PREMIER

Signé Antonio Venitiana, del Rabbina

Chapter 1

CHAPITRE II

Chapter 2

CHAPITRE III

Contenant la véritable composition de la baguette mystérieuse, ou Verge foudroyante, telle qu'elle est représentée ci-dessous.

Chapter 3

True composition of the Mysterious Wand, otherwise the Destroying or Blasting Rod.

CHAPITRE IV

Contenant la véritable représentation du grand cercle cabalistique
PREMIÈRE PARTIE
SECONDE PARTIE
OFFRANDE
PREMIERE APPELLATION. A L'Empereur Lucifer
SECONDE APPELLATION
TROISIÈME APPELLATION
GRANDE APPELLATION. Tirée de la véritable clavicule.
De l'apparition de l'esprit
Ordre de l'Esprit
CONJURATION et renvoi de l'Esprit
Actions de grâces

Chapter 4

Concerning a True Representation of the Grand Kabalistic Circle
FIRST PRAYER
SECOND PRAYER
OFFERTORY
FIRST CONJURATION. Addressed to the Emperor Lucifer
SECOND CONJURATION
THIRD CONJURATION
GRAND CONJURATION. Extracted from the Veritable Clavicle
Of the Manifestation of the Spirit (Lucifuge Rofocale)
Invitation of the Spirit
CONJURATION and discharge of the spirit
Act of Thanksgiving
SECOND LIVRE,

Contenant le véritable SANCTUM REGNUM DE LA CLAVICULE,
Ou la véritable manière de faire les pactes,

SECOND BOOK

Containing the true SANCTUM REGNUM of the CLAVICLE,
Or, the true manner of making pacts,

Avec les noms, puissances et talens de tous les grands Esprits supérieurs, comme ausi la manière de les faire paraître par la force de la grande appellation du chapitre des pactes de la grand Clavicule, qui les force d'obéir à quelque opération que l'on souhaite.
With the names, powers, and abilities of each of the higher great spirits, likewise the manner of making them appear by the force of the great conjurations of the chapter of pacts from the grand Clavicle, which forces them to obey in whatever operation one wishes.
LE SANCTUM REGNUM,

THE SANCTUM REGNUM,

Ou la véritable manière de faire des PACTES avec quelques esprits que ce soit, sans qu'ils vous puissent faire aucun tort.
Or, the true manner of making pacts with the spirits

Leurs signes et caractères
Grande appellation des esprits avec lesquels l'onveut faire pacte tirée de la grande clavicule
Apparitione de l'Esprit
Le pacte
Conjuration et renvoi de l'Esprit avec lequel on a fait pacte
Prière au Tout-Puissant en forme d'action de grâces
Oraison pour se garantir des mauvais esprits

Their signs and characters
Grand conjuration of spirits with whom it is sought to make a pact. Taken from the Grand Clavicle
Manifestation of the Spirit (Lucifuge Rofocale)
The pact
Conjuration and dismissal of the spirit with which one has made a pact
Prayer of thanksgiving to the Almighty
Speech to protect from evil spirits

Citat præ dictorum Spirituum.

TABLE des jours heureux et malheureux.

Table of lucky and unlucky days
DE L'ART MAGIQUE DU GRAND GRIMOIRE.

OF THE MAGIC ART OF THE GRAND GRIMOIRE

Composition de mort, ou la pierre philosophale.
our faire la baguette devinatoire et la faire tourner
Pour gagner toutes les fois qu'on met aux loteries
Pour charmer les armes à feu
Pour parler aux esprits la veille de la St. Jean-Baptiste
Pour se faire aimer de telle fille ou femme que vous voudrez
Pour faire danser tout nu
Pour se rendre invisible
Pour faire la jarretière de sept lieues par heure
Composition de l'emplatre pour faire dix lieues par heure
Composition de l'encre pour écrire les pactes
Encre pour noter les sommes qu'on prendra dans les Trésors cachés, et pour en demander de plus fortes à Lucifugé, dans les nouveaux besoins.
Il est inutile de faire remarquer que tous les objets décrits ci-des sus doivent être absolument neufs
En quels temps les arts se doivent accomplir et perfectionner.

The Composition of Death, or Philosopher's Stone
To make the divining rod and to make it turn
To win any time one plays the lottery
To enchant firearms
To speak with the spirits on the Eve of St. John the Baptist
To have the love of any girl or woman you want
To make one dance completely naked
To make oneself invisible
To make the garter of seven miles per hour
Composition of the plaster to make ten miles per hour
Composition of the ink for writing pacts

  Catalogue: 8631 .a. 23.
  Author:    Antonio Venitiana
  Title:     Le Grand Grimoire
  Place and Date of origin:  Paris, 1845
  Pages:     108